University of Arizona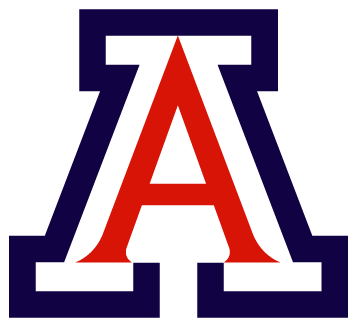 Fall 2015 Winners
Cindy Hsu
Cindy Hsu is from Taipei, Taiwan and she is currently in her last year of college, double majoring in Marketing and Finance. She will graduate in August 2016 from Eller College of Management. Upon graduation, she plans to stay in Tucson and work for a start up company that focuses on importing products from Asia. During leisure time, she loves to cook and travel to explore different cultures.
"The FOX Sports University project gave a great opportunity to experience what real world is like, and it will definitely be an asset to my career in the future."

"This type of project is great for students, and we are very lucky to have the chance from Advertising Management class with Dr. Ackerley."
Fiona Hanlon
Fiona Hanlon is a senior at the Eller College of Management at the University of Arizona. She will graduate in May 2016 with a BS in Business Administration with focus in Marketing and an Italian Studies minor. She plans to get a job in either the advertising or PR fields after graduation. In her free time, she works part time at Apex Microtechnology and mentors a high school FIRST team, Team CRUSH (Creating Robots Under Severe Heat) 1011.
"It was amazing to work on this project, but it was even cooler to win because I got to see my ideas actually start to get executed."
"Working with an actual client, made my advertising class even better because it was no longer just a pointless project, but something that would actually be valuable to a real company."
Fall 2015 Project Description
University of Arizona students were tasked with developing an integrated marketing campaign to promote FOX Sports' TV everywhere app, FOX Sports GO. Their challenge was to present ideas to increase streaming of College Football and College Basketball on the app.
Professor Profile
Ed Ackerley
Dr. Ed Ackerley teaches undergraduate advertising and creativity courses in The Eller College of Management in the Department of Marketing at the University of Arizona.   Dr. Ackerley also is the faculty advisor for two  clubs: the American Advertising Federation and the Business of Entertainment Club. He also teaches courses in the Department of Communication as well as the School of Film and Television. College teaching awards include the Bumps Tribolet Student Services Award, the Amiable Award from the College of Fine Arts, the Apple Polishers Award, and a faculty honoree from the Eller Hispanic Honorary, Eller Student Council, Pi Beta Pi, and Eller College Ambassadors. Since 1976, Dr. Ackerley has been an account executive at Ackerley Advertising managing relationships between the agency, clients and media.  His professional affiliation with the American Advertising Federation includes leadership roles in the American Advertising Federation Tucson including past president, and nationally as a governor, board of directors and Chairman of the Council of Governors. Professional recognition includes Advertising Professional of the Year, Hall of Fame and AAF Silver Medal Award.  He is also the author of CreatingMAGIC and consults on creativity and leadership in organizations
Professor Profile
Ed Ackerley
Dr. Ed Ackerley teaches undergraduate advertising and creativity courses in The Eller College of Management in the Department of Marketing at the University of Arizona.   Dr. Ackerley also is the faculty advisor for two  clubs: the American Advertising Federation and the Business of Entertainment Club. He also teaches courses in the Department of Communication as well as the School of Film and Television. College teaching awards include the Bumps Tribolet Student Services Award, the Amiable Award from the College of Fine Arts, the Apple Polishers Award, and a faculty honoree from the Eller Hispanic Honorary, Eller Student Council, Pi Beta Pi, and Eller College Ambassadors. Since 1976, Dr. Ackerley has been an account executive at Ackerley Advertising managing relationships between the agency, clients and media.  His professional affiliation with the American Advertising Federation includes leadership roles in the American Advertising Federation Tucson including past president, and nationally as a governor, board of directors and Chairman of the Council of Governors. Professional recognition includes Advertising Professional of the Year, Hall of Fame and AAF Silver Medal Award.  He is also the author of CreatingMAGIC and consults on creativity and leadership in organizations
Bring Fox to My School